Innocence and Experience
learning experience for personal sustainability

This course is dedicated to personal sustainability and creative living, rooted in embodied culture. With this chosen title we refer to a tension between knowing how things are because you have lived them in the past, and openness to something new, sensing the chance that what your heart desires is possible. One is our multi-layered experience and acumen that comes from it. The other is our sincere and spontaneous innocence and possibilities that come with it. Who were you, who are you, who are you becoming? What was formative for you, what is present to you, what will be possible?
It's an invitation to look into the subject of innocence and experience in your own life from transdisciplinary perspectives and experiment with new forms of embodied perception and understanding, placing direct experience before concepts in order to reverse the so often occurring situation when real life questions are dismissed while philosophical and theoretical systems are treated as real.
We are a cross-disciplinary team: an art historian, a voice coach, a designer, a chef, an artist and an experience designer, offering a unique approach to developing your personal sustainability by combining the intellectual, aesthetic, physical and emotional experiences. This time what we came up with is a carefully designed 3+2 day program, which will take you around the city to our favourite museum, a collaborative creativity loft and an artist's studio, where together with other course attendees and yet in a very personalised manner you will be able to dive into a journey inspired by Picasso and Klee, meet your own voice and discover its power, design and produce an object with your own hands from sustainable materials, and finally create an art object — a material home for your visions.
At a first glance, innocence and experience exist on the opposite sides of our binary thinking. Though only through the integration of both we can reach towards our true wisdom.

Core Course


We are multitudes. During this workshop we discover different parts of ourselves through encounters with arts, embodied inquiry, conversations with others and silent reflections. How do objects communicate? What's the role of the double? What do archetypal experiences and individual experiences have to do with each other? What happens when we are able to see all sides at once, all perspectives together? Accompanied by Pablo Picasso, Henri Matisse, Paul Klee, Alberto Giacometti, and each other, we will set off onto a journey of getting to know ourselves better, spending an entire day in and around Berggruen Museum.


To find one's real voice means to live from the inside out, not the outside in. It means finding one's own inner compass instead of imitating heroes. As Parker J. Palmer writes: "before you tell your life what truths and values you want to live up to, let your life tell you what truths you embody". The risk of a common "outside in" approach to mapping one's personal values is that our efforts to express ourselves and build our way in life can remain separated from the roots of who we are. Going back to the roots, looking at the basic questions like: "who am I", "what do I care for", "how am I present in my environment", and "where am I going", is where our understanding of values emerges from, when rooted in embodied experience of resonance. That's why during this workshop we aim to go back to the roots, and we approach this subject not only through a reflective inquiry into these basic questions but also through turning attention to the body and the voice as the most direct and immediate human expressions. Body has a sense of coherence and inner integrity — that's where we find our inborn compass, our unique voice. We follow the inquiry through a variety of voice exercises, movement, writing, individual and group reflection.
This workshop includes lunch, prepared by the food designer from our team. Lunch will reflect the subject of this workshop: it will focus on finding one's own voice and what does it mean when it comes to food.
If we do one thing long enough we tend to develop routines of how we do it and sooner or later stop paying attention. This is when we start being consumers, not creators. This workshop is about re-claiming your personal powers to create your own world. We will look at simple every day acts and things we come in contact with, rediscover our resonance with them and re-invent them, to start appreciating the daily life with a new sensitivity and attention. Tools will come from design, individual and group reflection, DIY, embodied inquiry. Every participant will leave this workshop with their own object for everyday life with a new awareness.
2-day Bonus Workshop. A vision into being.

How do you choose a direction in life? Where do you want to move towards? What are meaningful questions for you at this time in your life? During this 2-day workshop we will dive into questions around vision, personal or professional, individually and as a group. We will each shape our individual findings into an art object, expressing an individual trajectory. It will stay with us long after this mini-course is over, to remind that we are not nouns - we are verbs, evolutionary processes, evolving in time towards our visions. Because time is our biggest gift, and the tough questions at the end might be "Did I use my time well?", "Did I do what mattered most to me?" "Did I find my love?" "Did I pursue it like a wild hungry dog?".
Team for this course
Co-designer and co-facilitator Part 1. Art historian (B.A .Yale University, PhD Columbia University). Teaches at Bard College Berlin. Main research questions: how art affects our lives, what theory and history of perspective can contribute to our worldview, the phenomenology of art and of viewer response, and the relationship between art and philosophy.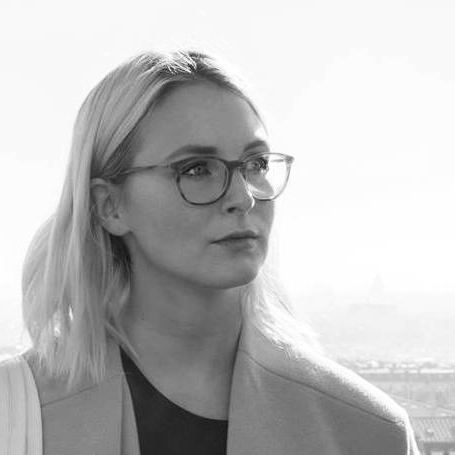 Co-designer and co-facilitator Part 2. Food and health professional (The Nu Company), product & experience designer (h_da Darmstadt, EnSci Les Ateliers Paris), Vinyasa yoga teacher. Focus on creating simple yet sustainable solutions through design.
Co-designer and co-facilitator Part 2. State-certified breathing, speech and voice teacher (Schlaffhorst/Andersen). Further education in potential-oriented voice work (Daniel Prieto), and natural rituals (Reinhold H.Schäfer). Gives workshops and voice coaching for actors, speakers, executives, and others, since 2011.
Co-designer and co-facilitator Part 3. Works as designer, architect and stage designer. Based in Berlin. Co-founder of Cucula — refugees company for crafts and design, and Crucible — interdisciplinary artists group.
Host, co-designer and co-facilitator of this course. Designs and facilitates learning experiences, events, workshops, and immersive experiences since 2014. Independent researcher and experimentator in the realm of sustainability and embodied culture. Founder of foresta.co.